Noruz is said to be a 6000-year-old tradition. In his book Shahnameh poet Ferdowsi has described Noruz as a celebration valued by Jamshid Shah, his first mentioned mythical Iranian king. Noruz is not just our new year but is a celebration of the beginning of everything. The crisp air, the fresh aroma of seasonal herbs and the beauty of the orange and cherry blossom.
Iran is a country tied to nature and very celebratory when it comes to seasons.

the beginning of spring is Noruz, our new year
Tirgan is the summer water festival
at Mehregan we are celebrating autumn
the beginning of winter is Yalda, supposedly the longest night of the year
My memories as a child of the last days of winter preparing for the Noruz are still fresh. Walking up and down Vali-Asr street heading in and out of shops to buy new clothes and shoes hand in hand with my father waiting for us to like what we tried so he could go ahead and haggle with he shopkeeper over the price. Everything had to be new and clean. The ritual of cleaning the house inside out is called "khoone tekooni" which literally translated to "shaking home". The cleaning is not just a simple daily cleaning. It starts with washing the carpets and digging deep inside the closets and cleaning everything. Tossing old things out and replacing them with new items, washing the walls, the whole kitchen, cabinets, courtyards and even basements.
Eating special food, as always with Persian traditions, is another Noruz ritual.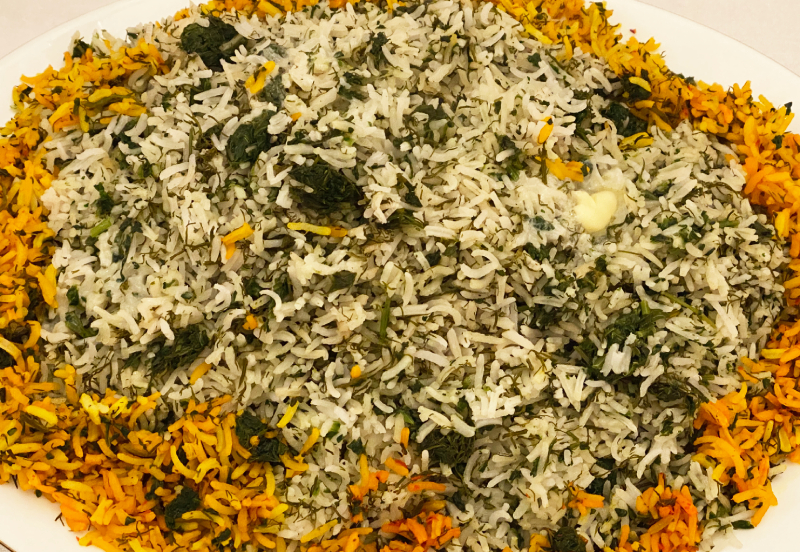 The night before the start of the new year, depending on which city you are from, mothers prepare special food for the family. The most common is "sabzi polo", rice prepared with a mix of different herbs such as dill, parsley, coriander and leek. This type of rice is often served with Iranian fish. Depending on which city you are from, the fish can be prepared in different methods and with different spices. The greenness of the rice is supposed to celebrate the greenness of nature and spring. This dish is also often served with kuku sabzi. Another popular rice dish made on this special night is "reshte polo" or noodle with rice. It is indeed a very uncommon and rather odd combination if you are not from Iran, but trust me, it works. We have a special noodle for this dish which is brown in colour. The noodles are added to the rice before rinsing and cooking twice. This rice is then served with fried raisins and sometimes chicken pieces.
Still, on the food topic, traces of nuts and dried fruits are very present in Noruz and its food rituals. We serve nuts and dried fruits to our guests who come and visit to say "happy new year". Besides that, Iranian tables are also filled with seasonal fruits and little cookies. Bereshtook and saffron pistachio cookies are two examples of those.
What I remember of a few days before new year's Eve, is long queues at nut shops and bakeries.
What is Noruz without Haftseen - meaning the "seven items that start with an S". I don't know exactly why we choose to put seven items starting with this specific letter but it seems without them the year won't be renewed. Nowadays we put our Haftseen on our tables but my grandmother always had her Haftseen on the floor together with the nuts and fruits. She used to spread a big cloth on the floor and put the seven S-words: not to be eaten, but to be displayed.

senjed is an indigenous dried little fruit, reddish brown in colour and not tasty at all
sir (garlic): we love garlic in our food but we also believe that garlic is a symbol of health
sumac is our indigenous spice
sepand is a sort of grain or seed that Iranians flame and smoke to keep the bad eye or bad spirit away
serke (vinegar): is believed to bring health and is another symbolic ingredient
sabze (green wheat, or any legume sprout): the ritual of soaking grains such as wheat, lentils, or even chickpeas has to start 10-15 days before new year's Eve depending on the grain you choose. First, you have to soak the grains and give them lots of attention and care so they grew beautiful green leaves and stalks and then you put it on your spread as a very important part of your Haftseen.
seke (coins): needless to explain, it is believed to bring wealth throughout the new year
sib and samanu are the other alternative S word of Haftseen just in case you do not have one of the other items at home. Sib (apple) is the symbol of health and samanu is a dessert made with wheat sprouts. Making samanu is another Noruz ritual. It is certainly strenuous work of cooking wheat sprout overnight without adding any sugar. The result is a gue-like dessert whose sweetness is completely naturally derived from the sprout itself.
The ritual of visiting people was always one of my favorites. Flaunting our new outfits and shoes, holding a little flower vase or bouquet, we always visited our grandmothers on the first day of new year. My most loved ritual is when grandma asked us to open the holy book on the table and take the freshest newest note. I remember I used to have a little red bag to put all my new year gift money that I had got from relatives and friends.
Noruz takes 13 days. During all these days schools, offices and universities are often partially closed.
Traveling is another tradition for Iranians during Noruz holidays. Hotels are all booked, roads busy and restaurants packed. The 13th day is called Nature's Day. People often take their sabze, the wheat sprout, and go to parks or the woods and picnic there and eat ash and do some Persian-style barbecue. They then throw the sabze in a little running water believing that sabze has taken all the ill and bad during the 13 days and now it is released and taken away by water.
Another ritual that young Iranians have is to tie sabze leaves hoping that they find their love and get married. In a way, tying Sabze symbolises tying knots between two lovers.
With all its beauty and love, Noruz rituals start with cleaning and renewing everything and end with becoming one with nature on the 13th day.