an amazing library and luxurous shopping mall
Iran Mall opened in 2019 and is the vision of an Iranian banker and entrepreneur named Ali Ansari. The construction includes a movie theatre, an ice hockey auditorium, a concert hall, sport complex, convention center and a luxury hotel. But it is surely known as the biggest shopping mall in Iran with its extensive retail options, cafes and restaurants. The stunning library and mirror hall replicate Qajar architecture and design.
Though it never became the city's busiest shopping center, its recent renovation has made the Chitgar lake surrounding more modern. There is certainly more to experience in Iran Mall than just shopping. This magnificent library is more than 3000 square meters and is designed with elegant dark wooden shelves packed with books from around the world.
The library is named Jondishapour after a historical town in Khuzestan province that in the 3rd century BC during the Sassanid era was a center for higher learning. This museum-like library provides the opportunity for a relaxing and fun evening with its 67000 books and two beautiful cafes inside the library.

click on image below to watch video

It wouldn't be surprising to learn that the floor of the library is carpeted with a 350 square meter Kashan handmade beauty whose reflection on the glass ceiling is quite breathtaking.
Capital Tehran is a huge city: 730 km² large with 8.7 million people. The Iran Mall is situated below the heights of Alborz Mountains in the northwest direction Karaj, close to the highway and Chitgar lake.

Visit the official website.
Adjacent to the library is an unbelievably huge handmade Persian carpet museum. There I saw the most stunning and by far the biggest carpet I had ever seen out of the Iranian palaces. The carpet was in fact for sale for 150,000 euros. Knowing 7 people had spent 15 years of their lives weaving the carpet, I was not surprised about the price at all.

click on image below to watch video

The mirror hall next door was another stunning room that dazzled us. Having visited almost all the palaces and lots of historical houses around Iran, I've learned that mirror work has a special place in Iranian architecture. This room is a replica of the Qajar parliament that is built in the heart of Tehran which still exists but is not open to the public, I assume.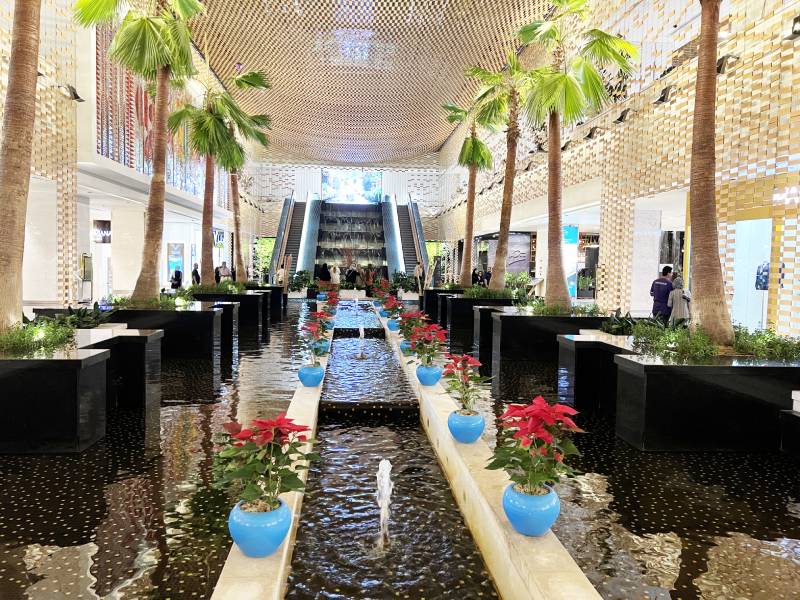 Our visit to this contemporary but inspired-by-history place ended with sitting in a cafe looking out at the beautiful manmade waterfall.
I should say it wasn't a very relaxing experience given it was packed with excited people who were busy posing for pictures at the waterfall but the view was beautiful and indeed picture-pretty.
Iran Mall amazed us in so many different ways. Though its food court was not that exquisite we enjoyed discovering every single corner of it.