If you are a student in Tehran, going to Kashan is a field trip that schools organise for high schoolers. My first trip to Kashan was when I was 17, just a few months before graduating. Fifteen years later I went there with my mother, again by bus departing from Saei Park, only 5 minutes from my parents' house. This time though I was not a teenaged student wishing to go to university or apprehensive about my future sitting in a corner of the garden sharing my mom-cooked meal. I was a tall lady standing next to my beautiful mom, holding her wrinkled hand, walking with her through the garden.
On the road, usually the driver makes a stop in the religious city of Qom. That stop is mainly for people to get off the bus, shake their legs and buy lots and lots of Sohan, a traditional pistachio saffron brittle made out of wheat sprout flour and lots of butter, cardamom, pistachios and saffron.
Kashan is located in the province of Isfahan. From Tehran to Kashan is only 200 kilometers or a 2,5 hours drive southwest. Kashan is divided into two parts, mountainous and desert. In the neighbourhood of Tapeh Sialk some objects dating back to 9000 BC have been discovered. Between the 12th and the 14th centuries Kashan was an important centre for the production of high quality pottery and tiles.
When we arrived in Kashan, our bus took us straight to Fin Garden, the oldest extant garden in Iran, completed in 1590. Designed by Shah Abbas, the 5th Safavid Shah in the 16th century, the gardens are stunningly aligned with pools and fountains on every corner.
From there, the bus took us to Qamsar, a small village famous for its artistry of rosewater. In April and May, roses blossom in Kashan and it's time for curious visitors to discover rose water distillation festivals. Qamsar and Neyasar, world famous for their Flower-Water festivals, are the two villages where roses are abundant and rose water distillation takes place. The harvesting of the roses must be done from dawn till just before noon otherwise the quality is not guaranteed.
The rose petals are then put in huge copper pots placed on top of traditional ovens made from bricks and stones. In each of those pots, there will be 30 kg of the roses and 80l of water.
The pots are connected to pipes and somehow somewhere through the condensation process precious rose water is made.
After the demonstration people are led to the shops to buy their wonderful and authentic rose water and dried rose petals.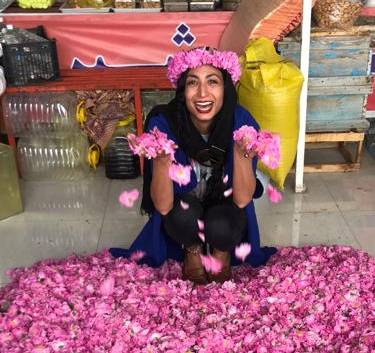 Rosewater, dried rosebuds and rose petals are inseparable ingredients when it comes to Persian cuisine.
Rosewater is used in Persian desserts such as saffron rice pudding (shole zard) and saffron pistachio ice cream.
Rose petals are frequently used in lots of Persian rice dishes such as rice with green beans and meatballs (loobiya polo) and a sprinkle of it on top of yoghurt and cucumber dip.
Rosebuds make a great tea on their own in a hot cup of water. Even one small bud in the teacup goes a long way.
I don't really know if it is because of the distinctive aroma of the roses or for the gorgeous and peaceful gardens or even the noise and liveliness of the tourists but what I know is that Kashan is a must-see rosy city in Iran.