ecotourism, relaxing in the middle of nowhere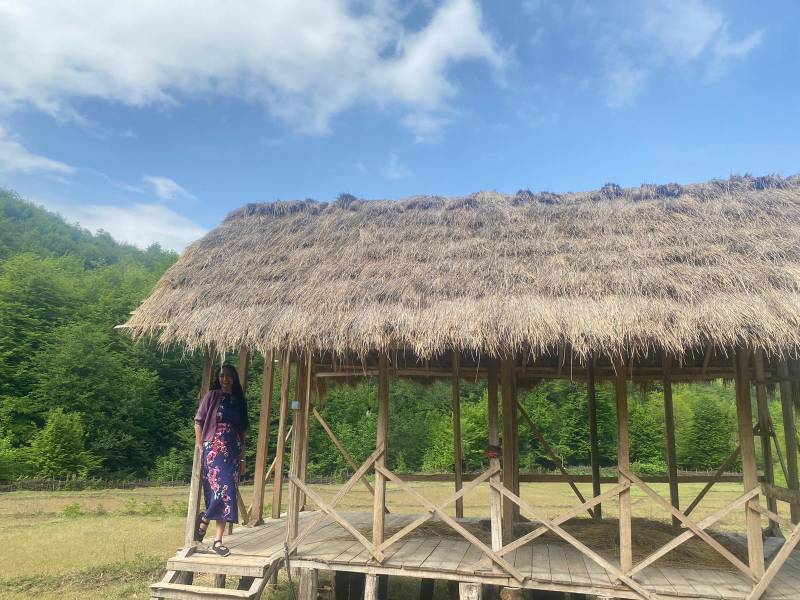 Whether you're Iranian or a foreigner visiting Iran, staying at traditional homes instead of luxurious hotels is a great choice for accommodation.
The experience is totally distinguished from the known modern hotels. These Iranian homes dating back to years ago are typically traditional houses that have been renovated and restored to be used as guesthouses for travelers.
Taking a refuge from the madness of Tehran to this beautiful place is an unforgettable experience. Pure back-to-basic experience with very weak internet connection, wake up to the sound of chickens and roosters and watch the cows right behind you grazing noisily.
Pilehbaba accommodation, meaning Grandfather in Talysh dialect, is situated in Kacha, a village only almost 32 km from the city center of Rasht. Rasht is up north in the Gilan province with the beautiful Caspean sea around the corner. From Tehran it takes an over 4 hours drive passing Qazvin. Check their Instagram page.
The traditional house of Pilehbaba is about 70 years old with a completely traditional architecture made with clay and mud, bordering the river and the pristine forests of the region.
This residence is built on a land with an area of two hectares with 350 square meters of infrastructure on two floors. Three accommodation rooms are on the ground floor and the other three rooms are on the upper floor, with a total capacity of 30 tourists. This two-storey house includes a large and generous porch with lush views to the tall trees touching the sky.
For those of you who want to venture out, put your trail shoes on and ask one of the locals to guide you to the magnificent waterfall. After 10 minutes of walk through the forest just follow the mesmerising sound of water. Not having walking shoes, I actually tore my delicate shoes on the way - they were covered in mud anyway. I had totally forgotten that it takes some extra effort to prepare for the mud walk. On our way the guide warned us about stinging nettles and water snakes. Though not venomous, the hissing sound must be alerting and a bit scary or at least it was for me. Pack your picnic basket if you wish and enjoy your meal with natural background music.
If you want to see more, ask the reception to call you a cab to take you to the Rasht food bazaar. Rasht bazaar dates back to the Safavid era. This food market is among the most exciting places to visit for any food lover. A beautiful combination of colours, flavours and sounds which conveys a sense of liveliness and delight to any visitor.
This bazaar is a celebration of colour and abundance of fruits, vegetables, freshly collected eggs and unique Caspean sea catch-of-the-day. Take a walk and listen to the sellers signing Gilaki songs to sell their fish, eggs, garlic and tomatoes. Absolutely adorable.
At Pilehbaba, breakfast is included and served at 9 am. When it comes to lunch and dinner you might have very little option for food. They cook with the ingredients they have for the day. It goes without saying that nearly all the dishes they serve are traditional food from the area with local ingredients. The beloved baghali ghatogh is one of them. You also have the option to buy your own ingredients and cook in their kitchen. You are free to use their utensils and even basic ingredients free of charge. I chose to make garlic kuku.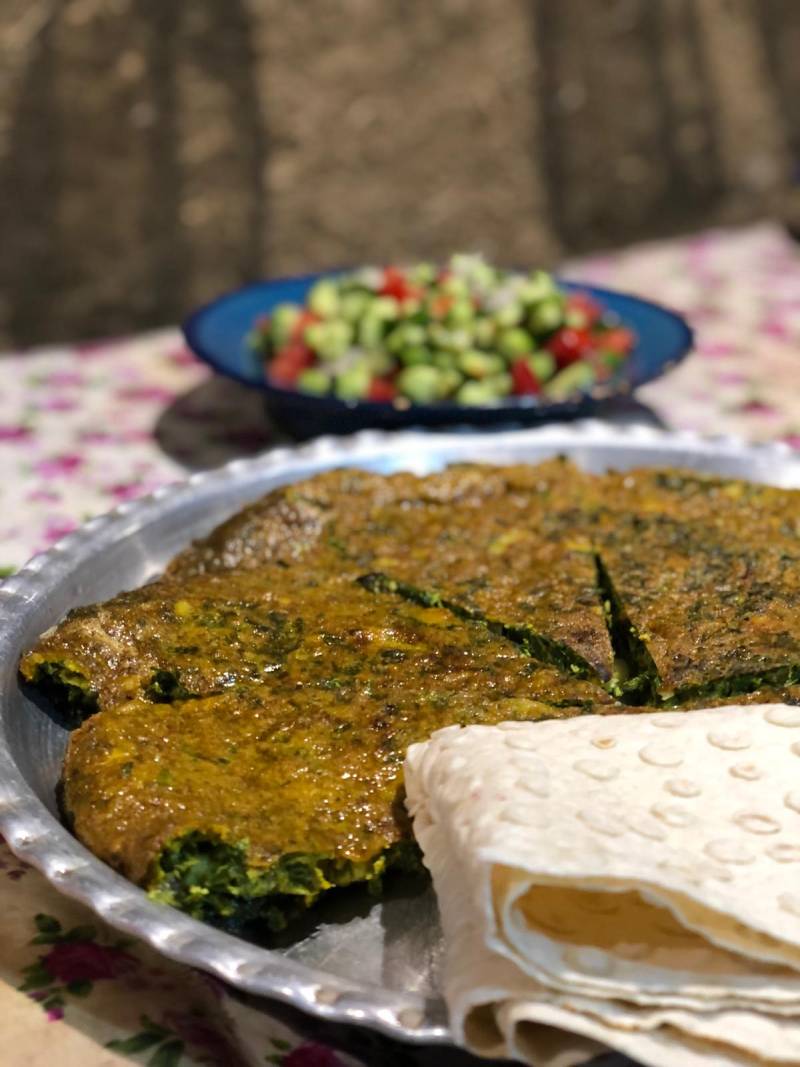 Kuku is a mix of vegetables and eggs. I always make green kuku at home but being in nature and having garlic as the most common local ingredients, I chose to replace all the other greens with only garlic, the buds and the greens. There were twelve other guests all from Rasht and I got a thumbs up from each of these locals. So, yes... a pat on my back.
Remember if you are obsessed with sanitation and cleanliness, Pilehbaba might not be the most suitable choice for you. But we fell in love with the effortless authenticity, the simple architecture, the local food they served and of course the very aura that we could feel and that is what we'd want to miss.
I was amazed by its vast greens, lovely people and the abundance of ingredients such as olives, rice, walnuts, prunes, tomatoes, garlic, aubergine and of course all kinds of fishes. Talking of olives, do not miss out on zeitoon parvardeh, the Persian marinated olives.