health bomb in Yousef Abad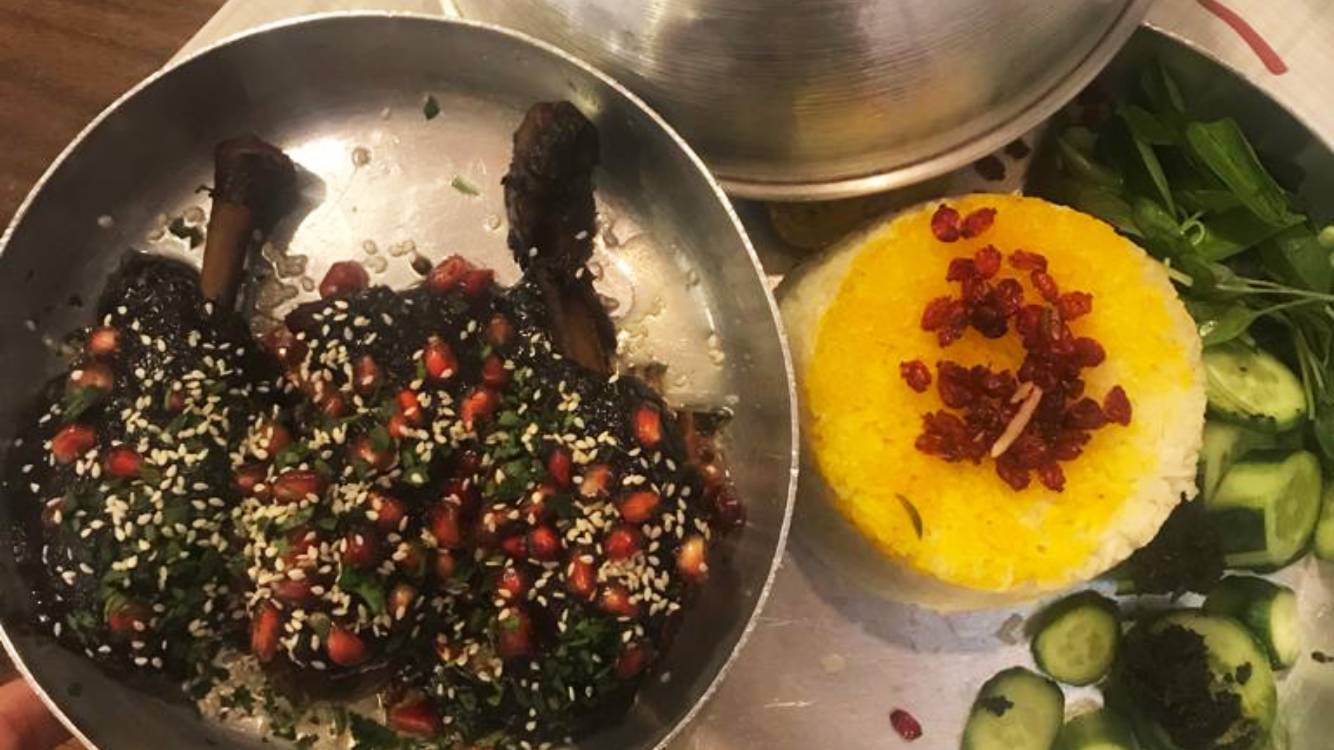 To write about my lovely neighbourhood, Yousef Abad, there are countless places and memories that are intertwined with this rich and old area. As a kid I grew up in Salsabil, close to the Grand Bazaar, but as a teenager I moved to Yousef Abad.
To start with, Yousef Abad's nights are full of joy and life with its juice bars and restaurants. One of the most well-known juice bars in Yousef Abad is Mohammad pomegranate juice bar. This name is the most heard-off name when it comes to pomegranate juice bars in Tehran as they have lots of branches all over the city.
Capital Tehran is a huge city: 730 km² large with 8.7 million people. Yousef Abad is an old neighborhood in the north of Tehran, consisting of an area developed through nearly parallel streets. People residing here are generally of upper middle class.
Mohammad Pomegranate juice bar is not just about pomegranate juice but you can find a variety of desserts and delicacies made out of pomegranates.
They have a menu with a vast variety of pomegranate juice combined with pomegranate ice-cream, pomegranate molasses, pomegranate jelly, pomegranate lavashak and pomegranate seeds.
Lavashak is a to-die-for Iranian delicacy that is made out of boiled and then pureed fruit and then sundried, rolled and cut into pieces. The place is a takeaway bar and what you see is all these cars lined up to get their pomegranate stuff and have it under the light on the bench in the street over some good laugh and stories.
Pomegranate molasses is an inseparable ingredient to lots of Persian dishes from the north. One of which is fesenjoon, the most delicious Persian stew prepared with pomegranate molasses, ground walnut and favourite meat cut such as duck or chicken or even beef-lamb meatballs. Depending on the taste you can have it prepared sweet, sour, or savoury.
Persian marinated olives zeytoon parvardeh is the most loved and well-known Persian side dish that is prepared with pomegranate molasses and aromatic herbs.
It is said that the juiciest pomegranate comes from Shiraz, the city of Persepolis and orange blossoms and also Saveh in Markazi province. Regardless of the origin, pomegranate is a loved fruit in Iran which lends itself to versatile Persian dishes.