Ramadan is one of the lunar months and the fasting month for Muslims around the world. Abstinence from eating and drinking during the day are the significant features of this month. Iran, the country of a wide variety of ethnic groups and diversity of local traditions, has the most diverse cuisines in this month.
In ramadan there are two occasions when people are allowed to eat. Once in the morning before the dawn and call for morning prayers (Sahari) and then in the afternoon or evening (depending on the season) after call for prayers again (Iftar). In both times, the most important food choice motives have been shown to be a kind of food that meets the amount of energy and nutrients the body needs after hours of abstaining from eating.
Just a few days left until the first day of ramadan, the holy month of fasting, you see the banners of "Ash and Halim" at almost every restaurant entrance. Ash is a thick soup consisting of legumes and lots of greens such as parsley, leek, coriander and spinach along with noodles. Ash is always garnished with fried onion, garlic, mint oil as well as a milk-based sauce called kashk. Halim is another ramadan ritual which ingredients are mainly barley and lamb cooked together overnight and stirred constantly until all mashed together like a thick goo. Then there comes cinnamon infused butter or ghee on top with some sugar. Some people prefer to eat it as a savoury dish but some like myself enjoy it sweet. And then there is zoolbia bamieh, a crispy Persian doug, deep fried in oil and doused in rosewater and saffron syrup. Bamieh, crispy on the outside and soft on the inside, is very similar to the Spanish churros.
Head and trotters of sheep, speak of nutritious. To most Iranians, queuing up for hours in ramadan to get their stew is the most pleasant wait of their lives. This stew is rich and so filling that it can keep you full for the rest of the day. You have the option to buy the whole head and trotters or you can choose to only go for the tongue, the brain, or even the cheeks. Ofogh restaurant in Yoosef Abad, my parents' neighbourhood is one of the most famous of such restaurants in Tehran. Taking your own dish is an option but they also have plastic buckets to sell. After you choose your favourite parts they pour a few ladles of the stew juice over it, pack some sangak bread and narenj. As far as I am concerned though I would like to go with the full-fat package and not worry about breaking down the fattiness. I want my head and trotter stew as original and fatty as possible. I can always worry about the fat the day after.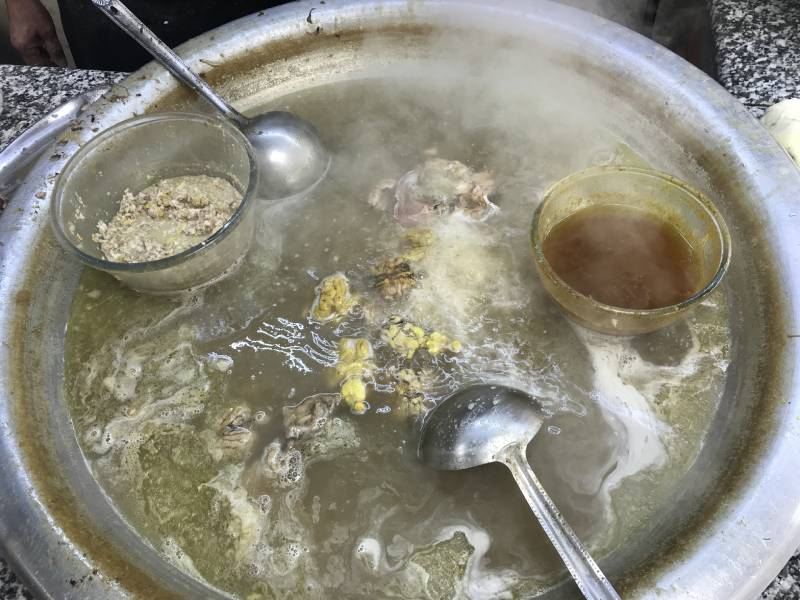 I can still picture my father standing in the queue holding our oldest and ugliest and biggest pot under his arm peeking through the shop and counting how many people are ahead of him. The way it's eaten is actually not very simple. It sometimes seems like Iranians want to enjoy this food the fullest. We first shred some bread and soak the pieces in the stew and eat the soaked bread and slurp the juice. Then we make bites out of different bits and pieces. My father would always go for a whole head and one or two extra brains and tongues. Then he would take out the pieces using only his hands (after washing them a hundred times at my mom's supervision) and then he would put the pieces in our plates while we stared at him with our hungry eyes and stomachs.
And of course, ramadan food varies town by town and even village by village. With the vast rice cultivation and tall walnut trees, the north of Iran cuisine has housed these two ingredients in almost every dish. Rehsteh khoshkar from the Caspian Sea area is a sweet wrap made with rice meal batter cooked like a thin lace bread holding a mix of ground walnut, cinnamon and sugar in. It is then wrapped like a little parcel and deep fried in oil ready to swim in saffron and rosewater syrup. The crunchiness and the sweetness are absolutely irresistible, fasting or not.
Shole zard or saffron rice pudding is also another sweet ritual that is prepared and served in Iftar (eating time after the call for prayer in the afternoon or evening after a long day of fasting). Once again the combination of nutritious rice and high in calorie sugar is a perfect match made in heaven and a suitable dish for ramadan.
To me, ramadan is always the month of food abundance and pure joy. Fasting or not, I always made myself a huge banquet with all sorts of mouth-watering ramadan associated food and enjoyed them at the sound of Azan (call for prayers).